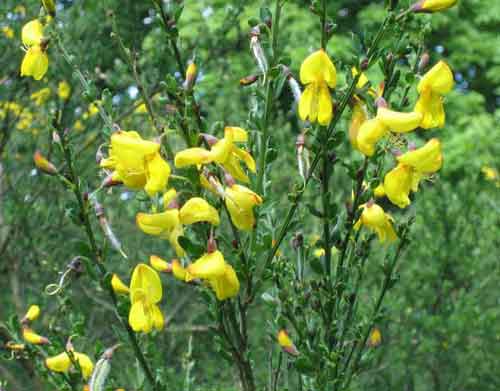 Planet: The Moon
Element: Water
Symbolism: Royalty, cleansing, healing, psychic protection, astral travel
Stone: Opal
Color: Blue
Bird: Geese, kingfisher
Deity: Mercury, Morpheus, Bacchus
Sabbat: Samhain
Folk Names: Scotch Broom
Medicinal properties: All parts of the broom have medicinal value. Traditionally it was used to treat ailments that resulted from excessive revelry. The green tips of the flowering branches were used as a mild diuretic. A concoction made from the young branches or seeds can cause vomiting. The sparteine found in Broom is now used for heart and circulatory disorders. Other preparations from Broom can help with gout, sciatica, joint pain, malaria, fever, kidney stones. Oil from the stems can relieve toothache and clear the skin of parasites. Ashes of broom were used to treat dropsy.
The main medicinal ingredient in Broom is sparteine. When consumed in large doses it can cause excitability and hallucinations. This has been speculated as the reason Broom is associated with witches flying around on brooms.
Magickal properties: Broom is used in spells for purification and protection. It was rumored to be helpful with poltergeists. Throw Broom in the air to raise the winds. And burn Broom, burying the ashes, to calm the winds. The strong smell of Broom can tame wild horses and dogs.
Entering the time of dormancy...