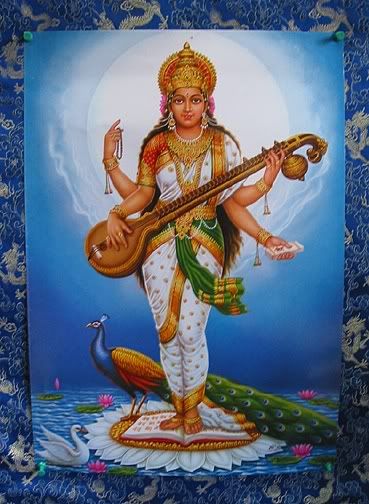 Sarasvati:
Mother of Wisdom, Learning & Music.

NAMES: Sarasvati `Flowing WaterŽ, also Sarawati, Yang can-ma (Tibetan), Vak Devi, (Goddess of Speech), Brahmi (First Female Principle), Sha-tarupa (Hundred Formed), Savitri (Life-giver)

'Inventor of all the arts and sciences, patron of all intellectual endeavors, Sarasvati is the very prototype of the female artist.
She invented writing so that the songs she inspired could be recorded; she created music so the elegance of her being could be praised.
In her identity as Vach, goddess of speech, she causes all words to come into being, including all religious writings.' (Monaghan)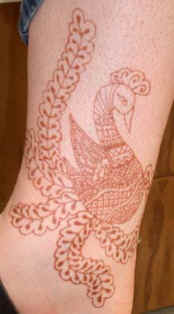 SYMBOLS
Lotus, Veena or vina an indian stringed instrument, book, peacock, white swan (or goose) the colors white & yellow.

Appearance
A beautiful woman wearing either yellow or white with white skin. She has a gentle expression and four hands which represent the four aspects of human personality in learning: mind, intellect, alertness and ego in which she holds a veena, a book, a lotus & prayer beads. Sometimes she is shown holding a drum or a pen or making a sign of blessing with one of her hands. She sits on ether a peacock or a white swan or goose.

HOLY DAYS
Vasant Panchami or Saraswati Day, celebrated every year on the 5th day of the bright fortnight of the lunar month of Magha.
It is believed to be her birthday.

Myth
In one version of the Vedic creation myth Sarasvati was the first being created after Brahma, some say his female half,
others that she flowed out of him as the first river.

Shortly after she came into being she danced shyly around Brahma so that Brahma brought about the first lust.
So great was his lust that as she danced around him he grew another face at each of the directions
so that he would not have to turn his head to see her, and when she floated over him he grew a fifth face on the top of his head.

Each of the four faces began to speak poetry directed at the Goddess. Because of this she invented writing so that these words could be preserved, and thus was Sanskrit born so that she could write down the four Vedas.

After this they retired into seclusion for 147,688,000 years (100 divine years) during which they created everything that exists.

There are other myths in which she has different and sometimes less auspicious origins,
and among the Buddhists she is a human, a bodhisattva, but still a human.